One Hour Heating and Air Conditioning
Quality HVAC services from Meacham One Hour Heating & Cooling in Westborough, Marlborough, Shrewsbury & nearby.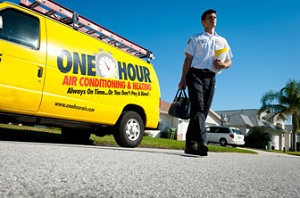 Our expert technicians can help you with all types of HVAC needs.
When you choose a One Hour Heating and Air Conditioning dealer like Meacham Companies, you can count on reliability and quality. We offer emergency HVAC service 24 hours a day, 7 days a week. Your time is valuable - and we won't keep you waiting. We promise we're: "Always On Time... Or You Don't Pay A Dime!"® Our many service options guarantee that your home comfort needs are met within your time frame, and that even your trickiest heating and air conditioner problems will be solved.
We offer 24-hour emergency service, with no overtime charges. Our fully stocked trucks with thousands of specialty parts and materials on board are ready to serve you and fix your heating or air conditioner problem on the first call. And when your family's health, safety, and comfort are involved, that means peace of mind. Quality service is important to our clients, and our goal is to ensure that your needs are met when heating or air conditioning issues that arise.
If you have problems with your HVAC system's performance or efficiency, we're here to help. Our maintenance, repair, and installation services will make your home more comfortable and help you save money. Call us today at 1-855-212-6496 or contact us online to get a free estimate in Shrewsbury, Westborough, Marlborough and the nearby areas.
Before and After
Before

After

The homeowners needed to replace their 30-yr old, oil fueled Boiler, Indirect Water Heater and Oil Tank.

The Comfort Advisor presented an energy efficient solution to the customer and the installation was performed by our team of experts. The solution included a Burderus High Efficiency Oil Burner and a Superstor SSU-45 Indirect Hot Water Heater with an oil tank replacement.

Before

After

Replaced an over 30 year old inneficient boiler with a Buderus Oil Boiler w/Logimatic Controls.

Before

After

Before

After

Bradley & Jane's furnace had a cracked heat exchanger and was running inefficiently. The existing systems had lots of trouble heating the home sufficiently resulting in many chilly nights in addition to potential safety issues. Shaun, one of our top Comfort Advisors, assessed the situation and proposed four options with pricing.

The new solution included high efficiency products by Amana for both A/C and furnace in addition to a 5" MERV 11 air filter. The MERV air filter was included to address the air quality issues the customer was experiencing.

Since the installation, Bradley and Jane already commented on noticing a difference in their air quality and lack of dust on the furniture. They are very pleased with the whole process from sales to installation. They are also happy to have peace of mind knowing their home will be at the right temperature for their comfort with quality air!

Before

After

Beautiful installation of a Buderus Oil-Fired Boiler, High-Efficiency 97%, with a zoned SuperStor Water Heater.

Before

After

This customer in Shrewsbury, MA had a 2-zoned boiler that was leaking water all over their basement. It turns out - the boiler was over 30 years old! It was definitely time for a change.

Our Home Comfort Advisors worked with the homeowner to decide what boiler would be best for their home. They agreed to replace the boiler with a 95% high efficiency system.
Heating and cooling services from One Hour
Furnaces
Heat pumps
Boilers
Ductwork
Air conditioners
Air handlers
Indoor air quality
Thermostats
What you can expect from One Hour HVAC services
One Hour Heating and Air Conditioning is a national network of expert HVAC contractors providing quality repair, replacement, and installation services. As the local One Hour dealer in Central MA, Meacham One Hour Heating & Cooling can provide you with quality solutions for all of your heating and cooling needs.
Our experienced professionals are fully trained and certified, and they can evaluate your home and recommend the right solutions for your needs. Our repair and replacement services will ensure your home's HVAC system is operating correctly and efficiently, keeping your home comfortable.
Call today for quality heating and cooling services
If you're interested in HVAC maintenance, repair, or installation services for your home, Meacham Companies is here to help. Our experienced professionals have the solutions you need for all types of heating and cooling systems. Call us today at 1-855-212-6496 or contact us online to get started with a free estimate! We offer all our HVAC services in Shrewsbury, Westborough, Marlborough, Northborough, Watertown, Natick, Southborough, Weston, Franklin, Waban and the nearby areas.
Looking for a price? Get a no cost, no obligation free estimate.